The Soul of Yarnadelic Remixes 0.1
Do you love knitting, music, and sharing these things with your friends? Did you ever spend joyful afternoons learning new techniques, making mixtapes, or writing about your favourite new knits or sounds?
Do you need more mischief, inspiration and geekiness in your life? More playlists, tunes and charming music box fun to accompany you during your knitting time? If the answer is "yes" then join us - Felix/KNITSONIK & Muriel/Labistrake - for Yarnadelic Remixes 0.1.
This project is our love letter to tunes, textiles, patterns and play. It combines our creative practices in a pattern collection that comes with our music box versions of popular songs; playlists; videos; notes; essays and a big old stack of fun.
By the end you'll know more about programmable music boxes and the songs that inspired John Arbon Textiles' Yarnadelic Yarn range. You'll also have an amazing collection of music-inspired handknits, each decorated in a different design that speaks to the patterns and rhythms of music in the colourful language of knit.
When you sign up to Yarnadelic Remixes 0.1, you'll continue the collaborative soul of our work together as you bring your own creativity to knitting our patterns, listening to our sounds, reading our notes, and remixing our designs on your needles.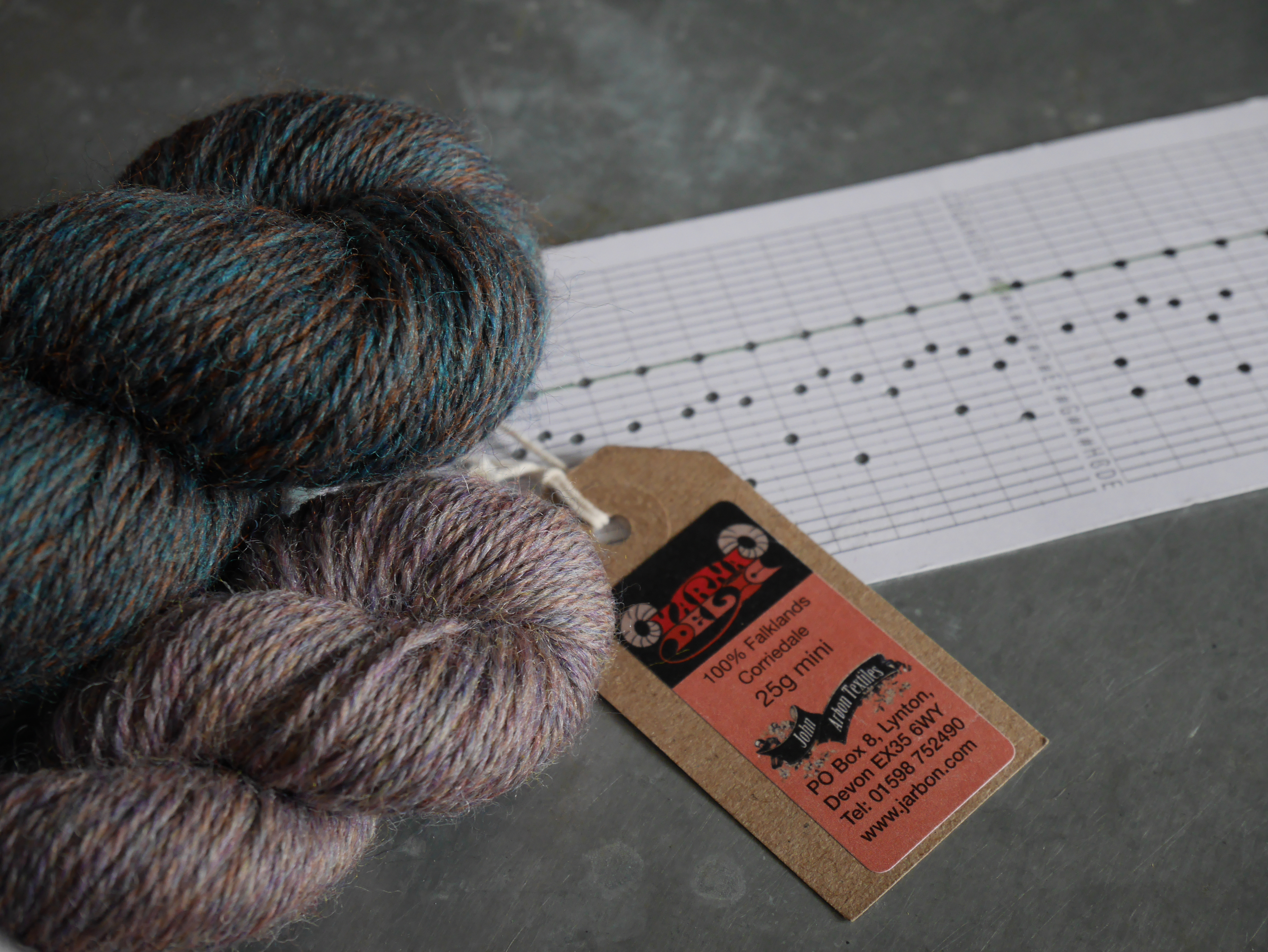 The Content of Yarnadelic Remixes 0.1
When you sign up to Yarnadelic Remixes 0.1 you'll get:
Six accessory patterns, each inspired by music and featuring a different technique (see Publishing Schedule below).
Tutorial videos demonstrating the techniques used.
Inspiring videos explaining the musical concept of each design and the background to the special creative commission, Woman Blue: Elevate produced by Lorna Hamilton-Brown RCA, MBE as part of this project.
Essays exploring some of the rich creative contexts surrounding the songs that inspired us.
Playlists so you can hear the creative process that led to each design and so you've something to listen to as you knit!
Audio downloads of our special music-box remixes of the songs behind the Yarnadelic yarn range by John Arbon Textiles.
The project's home will be right here on Teachable. This enables everyone who signs up to receive Patterns, Tutorials, Creative Video Content, Essays, Playlists and Audio Downloads together in one place.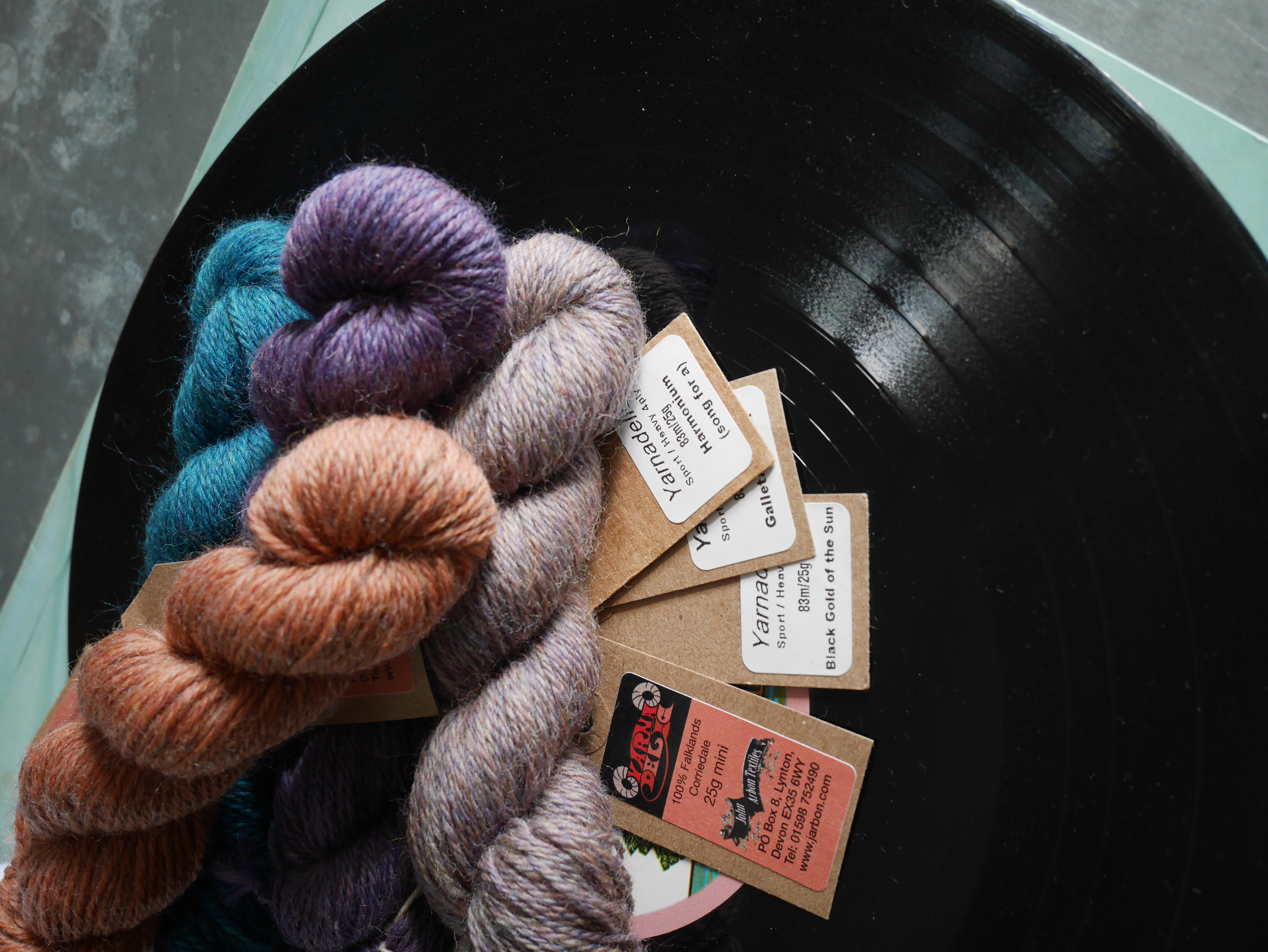 The Publishing Schedule for Yarnadelic Remixes 0.1
This is a disabled-led and content-rich project with many moving parts. To allow time to absorb, explore and knit each design in the collection, each of the patterns plus its supportive content will be published monthly as a fat, multimedia chapter of dreams, between April - August 2023.
Without giving too much away - we want each design to have its glorious reveal as this project unfolds! - this is the forthcoming release schedule:
April 2023 - Wondrous Waltz
Double-Knit fabric and marled ribbing; patterns that run in and out of sync; the wonderful artist Fatima and the creative milieu surrounding her 2018 release, And Yet It's All Love (featuring the Waltz that forms one half of this design's name).
May 2023 - Woman In All The Blues
Big Holes technique; making marled gradients; a feminist exploration of the history of Blues music and Judy Roderick's recording of the song Woman Blue; the story behind the powerful machine-knit artwork, Woman Blue: Elevate by Lorna Hamilton-Brown RCA, MBE.
Beading with a crochet hook; using beads as notes; minimalism and minimalist patterns in music and knitting; notating Penguin Cafe Orchestra's Music for a Found Harmonium for knitted fabric
July 2023 - Looking for a Stranded Harmonium
Stranded colourwork; an alternative music box version of Penguin Cafe Orchestra's Music for a Found Harmonium using shading sequences to speak to ideas of left and right handed-ness for wearing mitts and playing music.
August 2023 - Shuffle Mode Shawl
Making Magic Balls; stranded colourwork and steeking; experiencing snippets of songs and patterns as if encountering them via shuffle mode.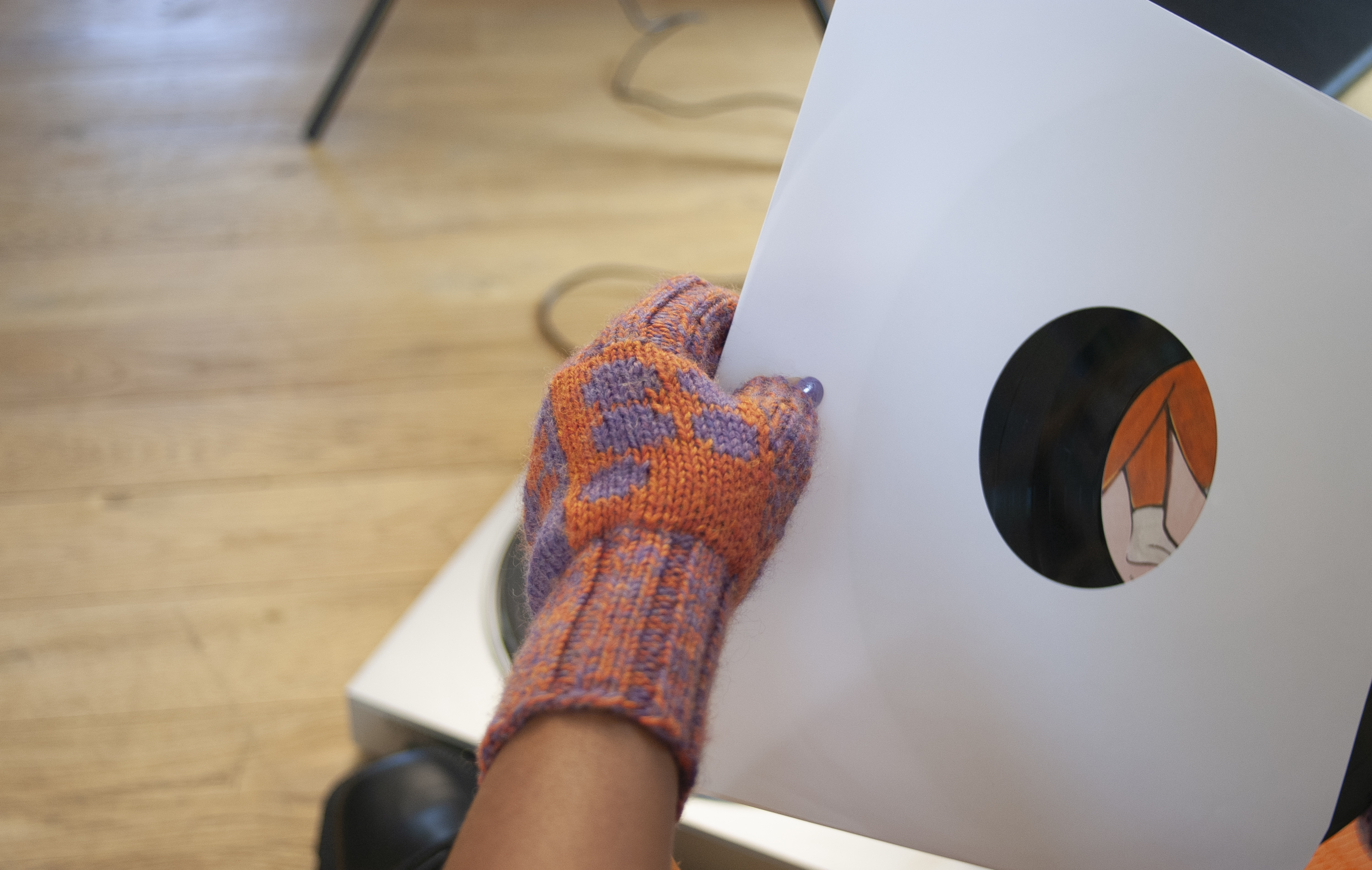 Course Curriculum
Welcome to Yarnadelic Remixes 0.1
Available in days
days after you enroll
Wondrous Waltz: Publishing April 2023
Available in days
days after you enroll
Woman in All The Blues: Publishing May 2023
Available in days
days after you enroll
Project Credits
AudioVisual recording, directing and editing - Felicity (Felix) Ford / KNITSONIK LTD.
Project Concept - Felicity (Felix) Ford / KNITSONIK LTD. & Muriel Pensivy / Labistrake Makes
Woman Blue - Elevate produced as an artwork for this project by Lorna Hamilton-Brown, MBE, RCA
Tech-editing - Tian Connaughton & Frauke Urban
Project launch support - Tian Connaughton and her excellent Pattern Partnership
Project Yarns - Yarnadelic by John Arbon Textiles
Knitwear Photography Credits
Stylist & Photoshoot Director - Kupa Matondo
Model - Faith Makawa
Makeup - Belle-Amie Kaldjob
Photography - Felicity (Felix) Ford / KNITSONIK LTD.
Location - Blewbury Studio
Hi! We're Felix & Muriel - the creators of this project, and we have been firm friends and collaborators since 2015. We share backgrounds in music; a love of knit and woolly wools; and - importantly - a sense of fun and a very deep need to play. We met online and quickly bonded over our interests in knitting, sound, and working with woolly wools. When Muriel posted a project online featuring a punch-card for a music box that she had charted and knit as stranded colourwork, the idea for our collaboration was born. We knew we wanted to knit music together, and when our friends at John Arbon Textiles brought out the Yarnadelic yarn range, we knew what we would use.
We are so excited to share this project with you - our knits to hear, our music to wear - and we can't wait to hear how our ideas are further remixed by you when you play them on your needles.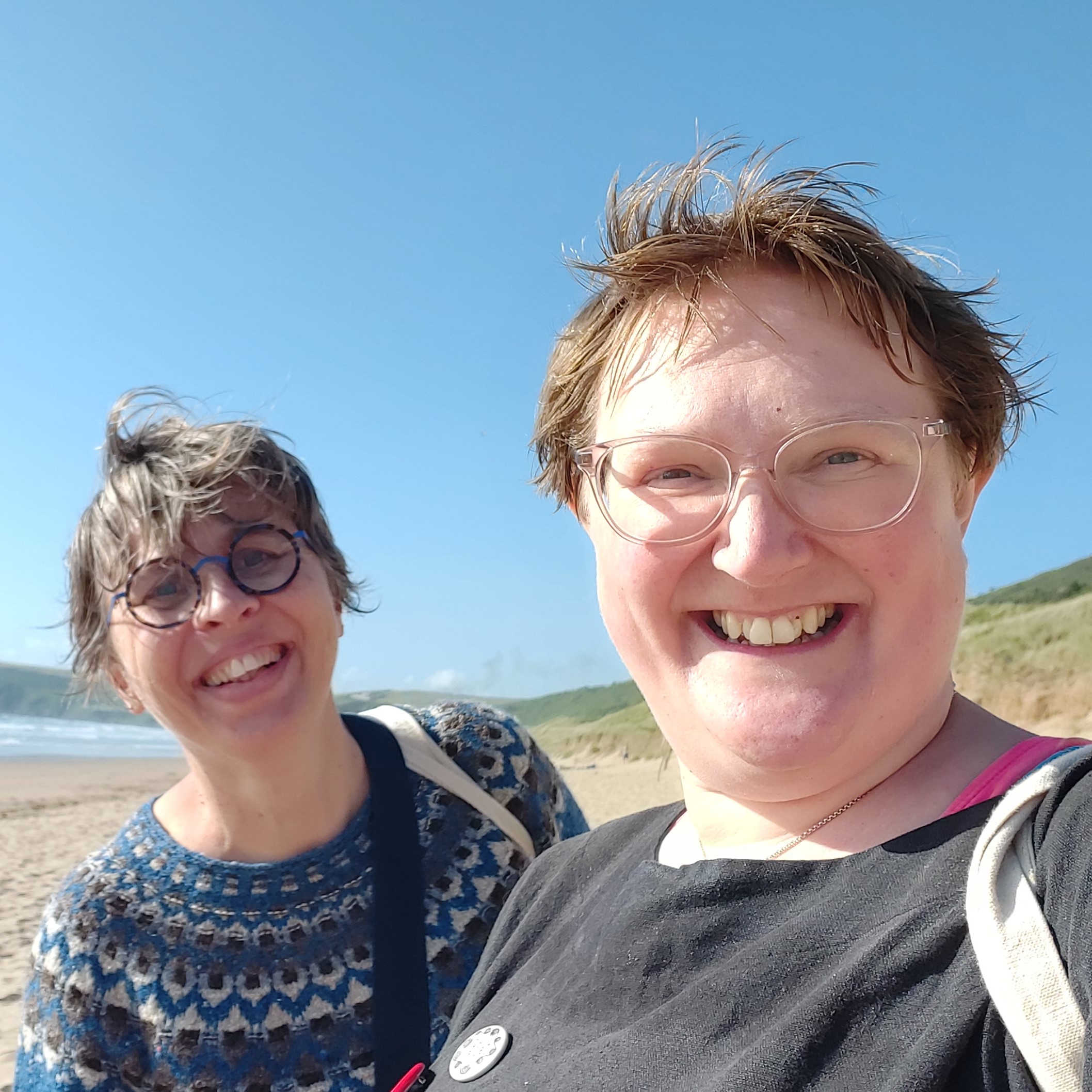 Your Instructors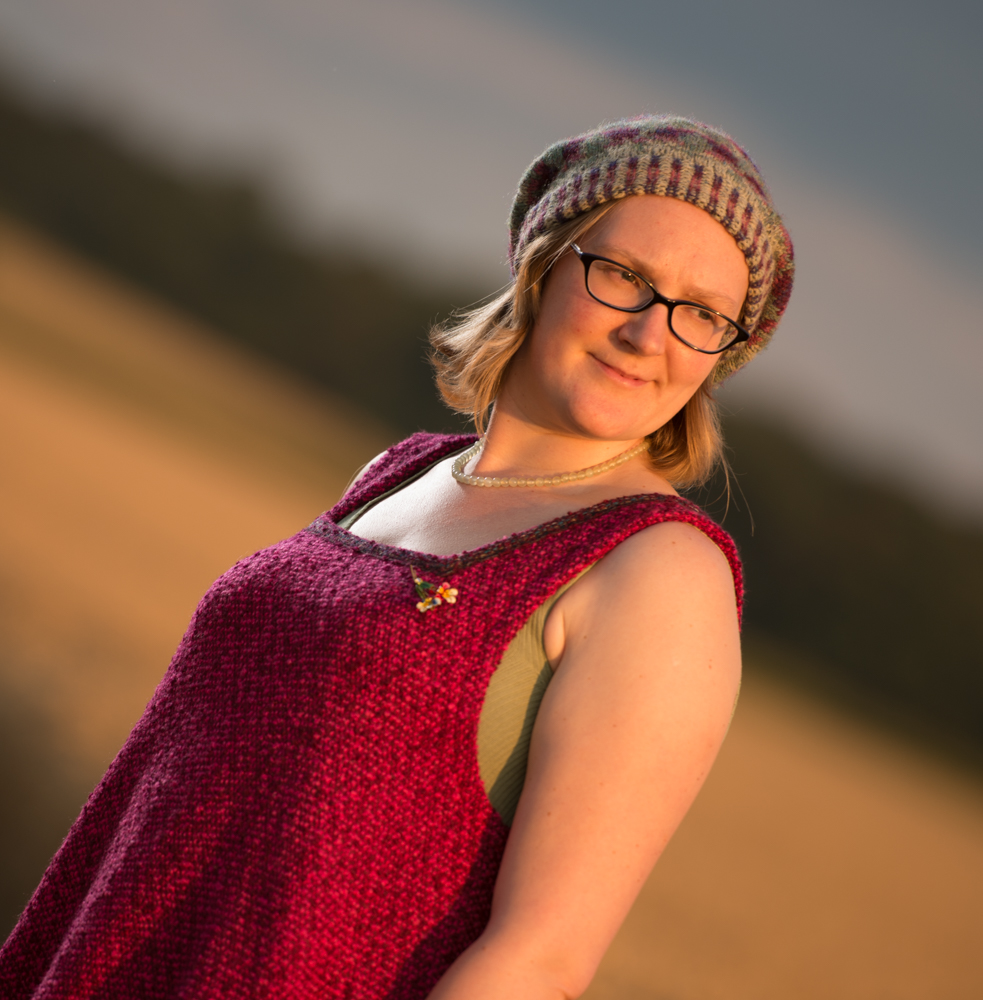 Felix completed an MA in Sonic Art & Composition and then a PhD in The Domestic Soundscape and Presenting Everyday Sounds to Audiences. She draws on this artistic background to teach creativity and self-expression to other knitters and has been running her online school here on Teachable since 2020. When not on here, she writes at KNITSONIK.com, and distributes her popular self-published KNITSONIK books (of which Yarnadelic Remixes 0.1 will be the fourth). Felix lives in Reading, UK.
Muriel completed a DEUG in Musicology and a Diplôme Universitaire de Musicien Intervenant after which she worked as a musical educator for 30 years, teaching young people to play music together in kindergarten, school and conservatoire (for students with special educational needs). Last year she quit that job to refit a horsebox, fill it with woolly wares, and take it on the road with her two adult children as a travelling emporium: La Boîte à Moutons. Muriel lives in Cholet, France.